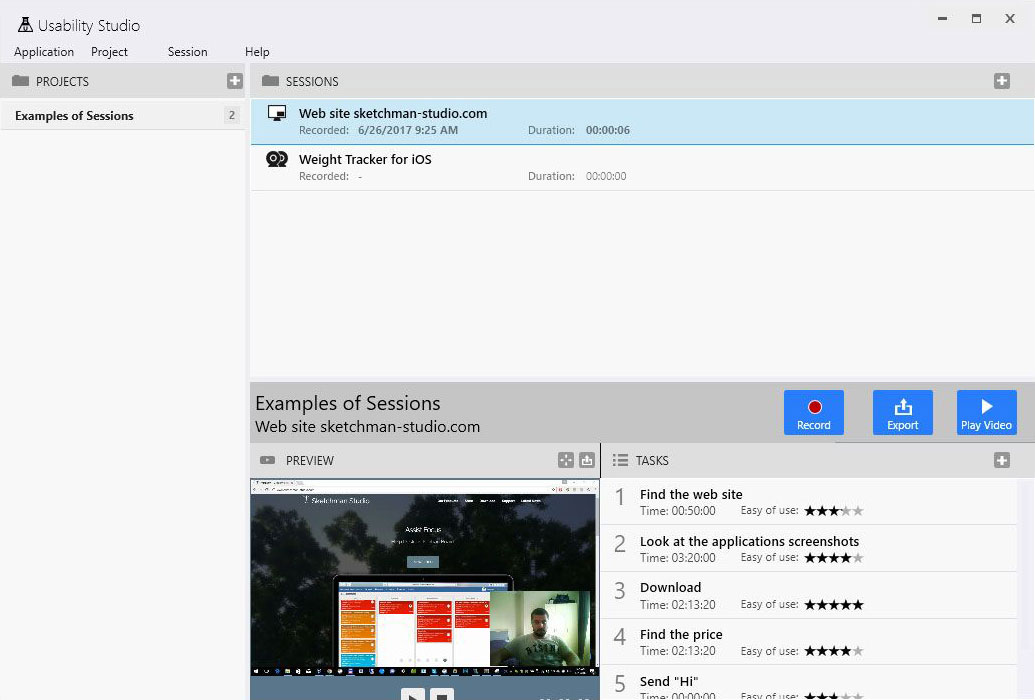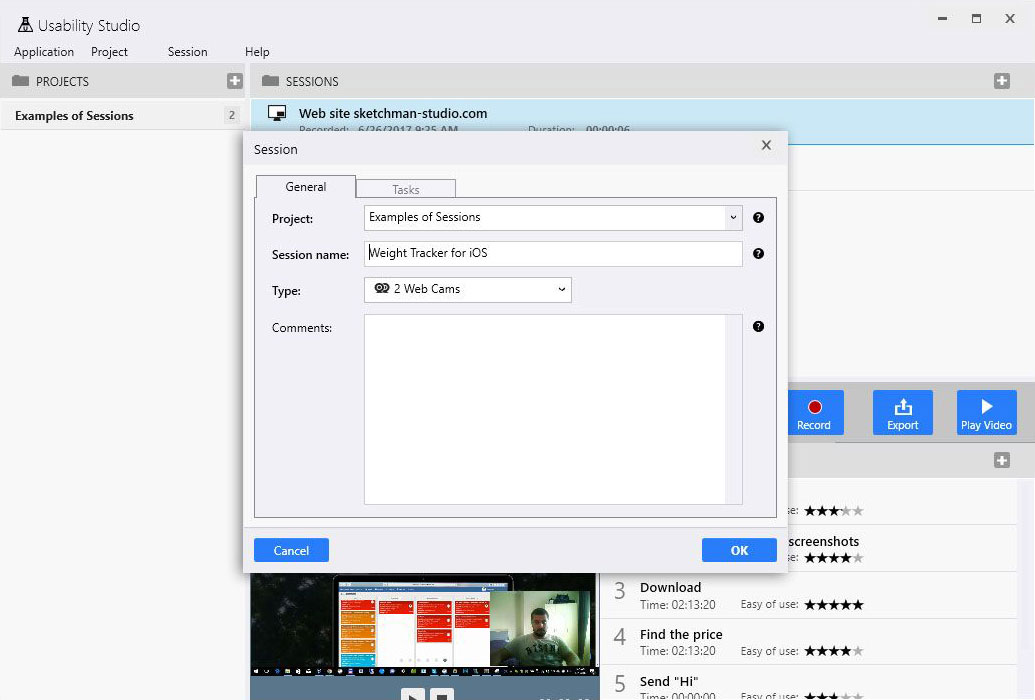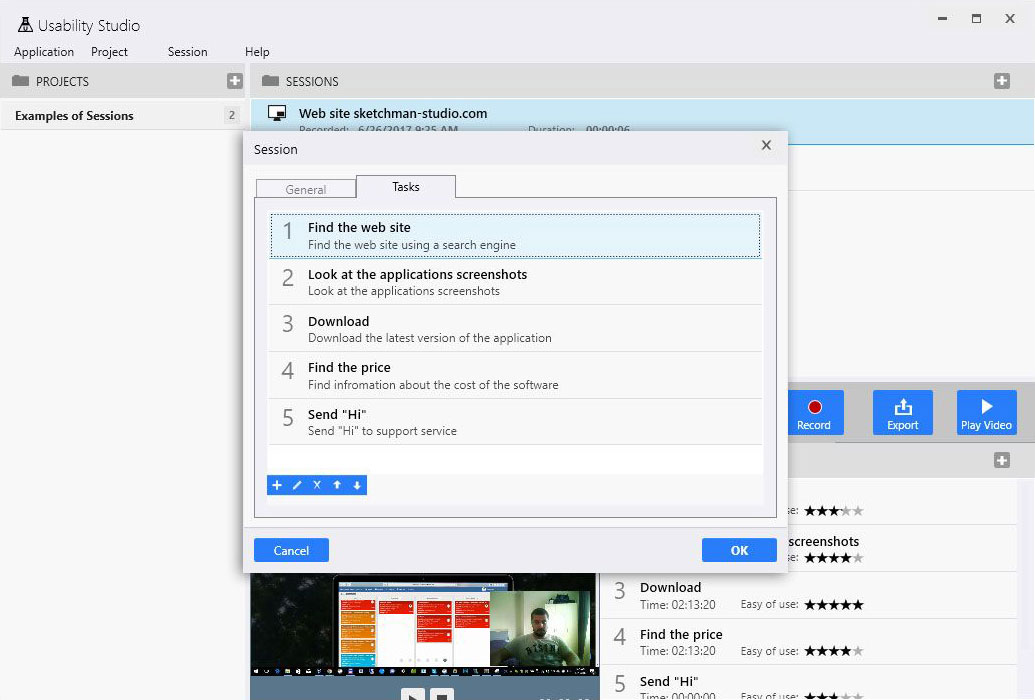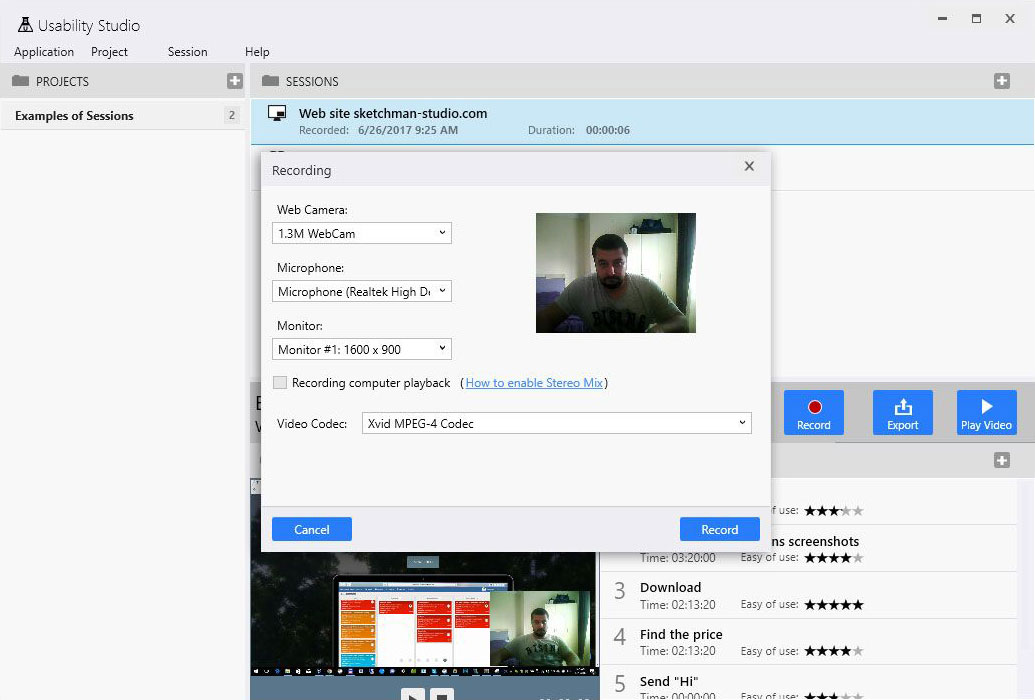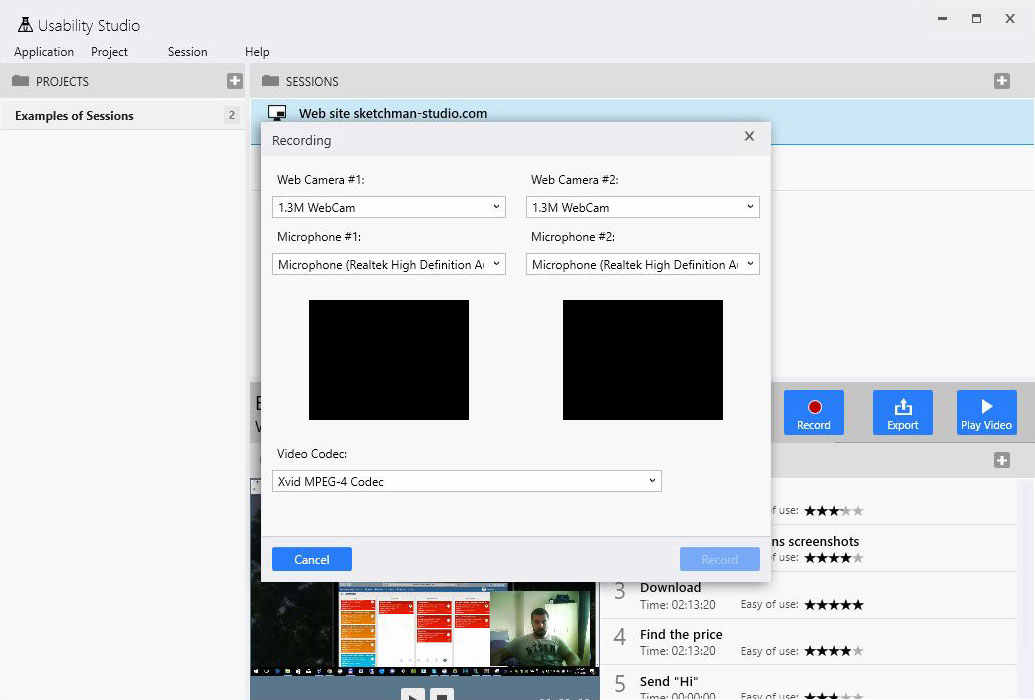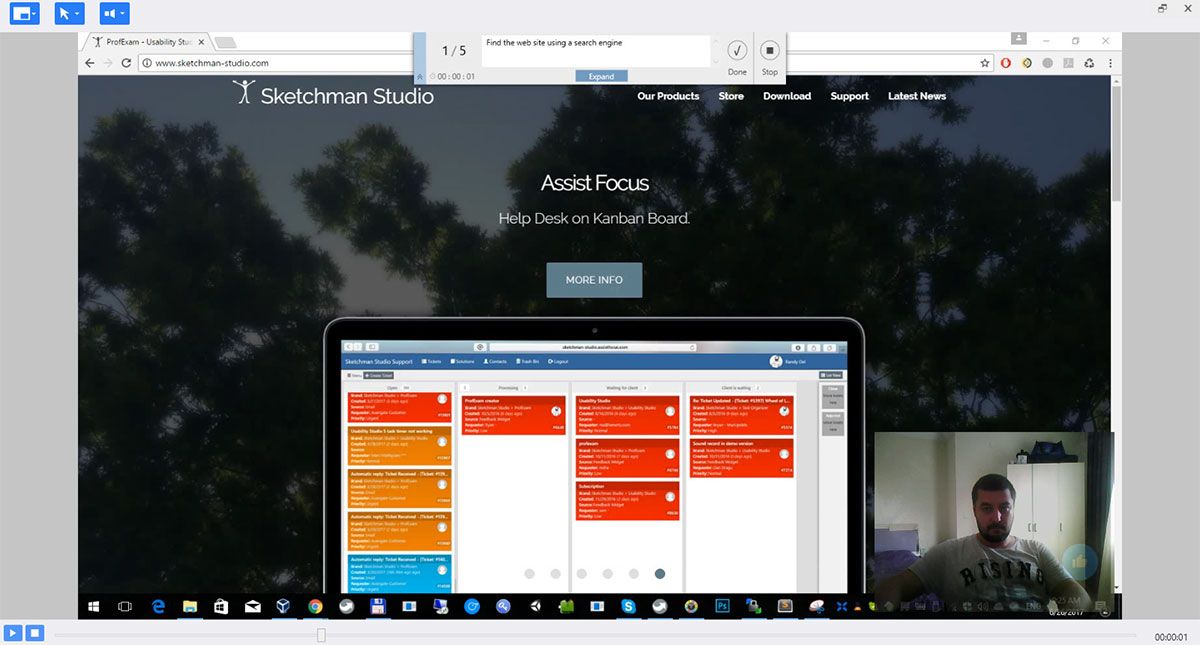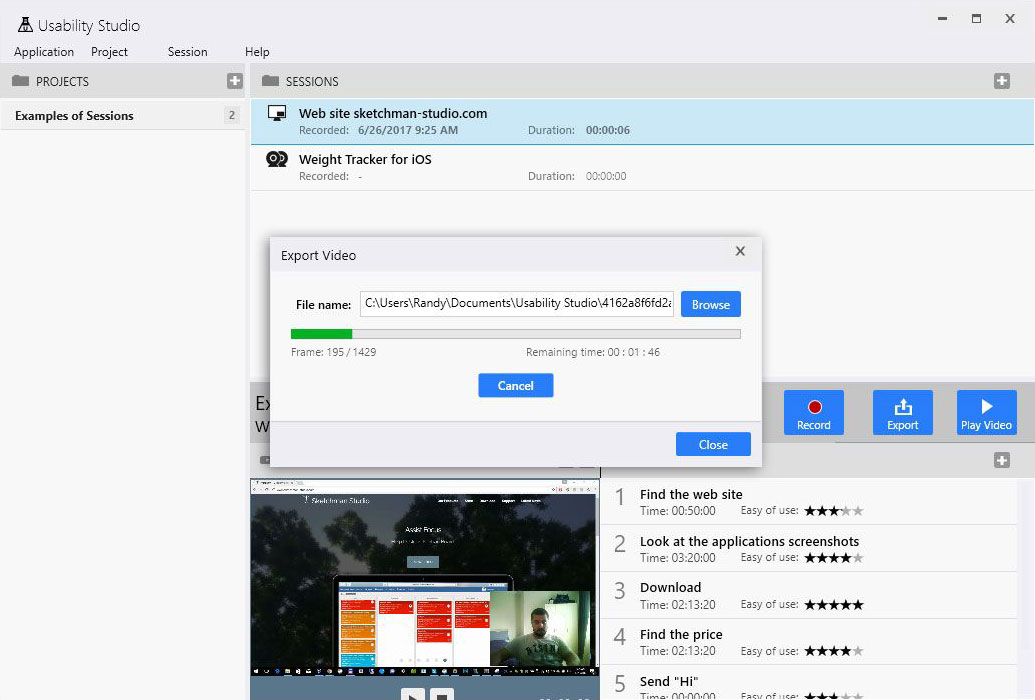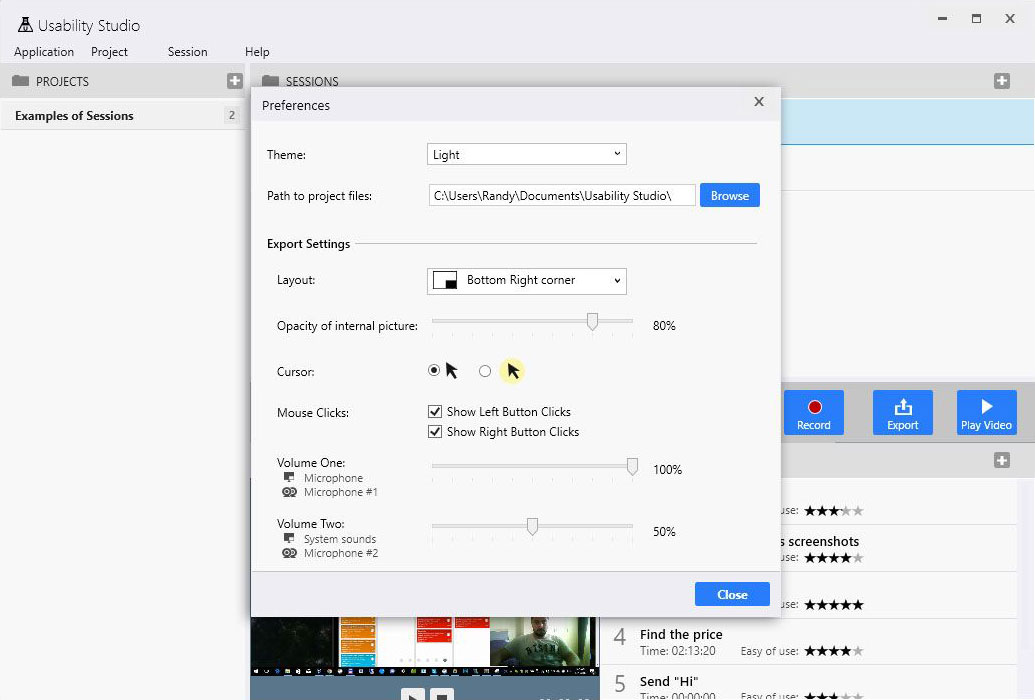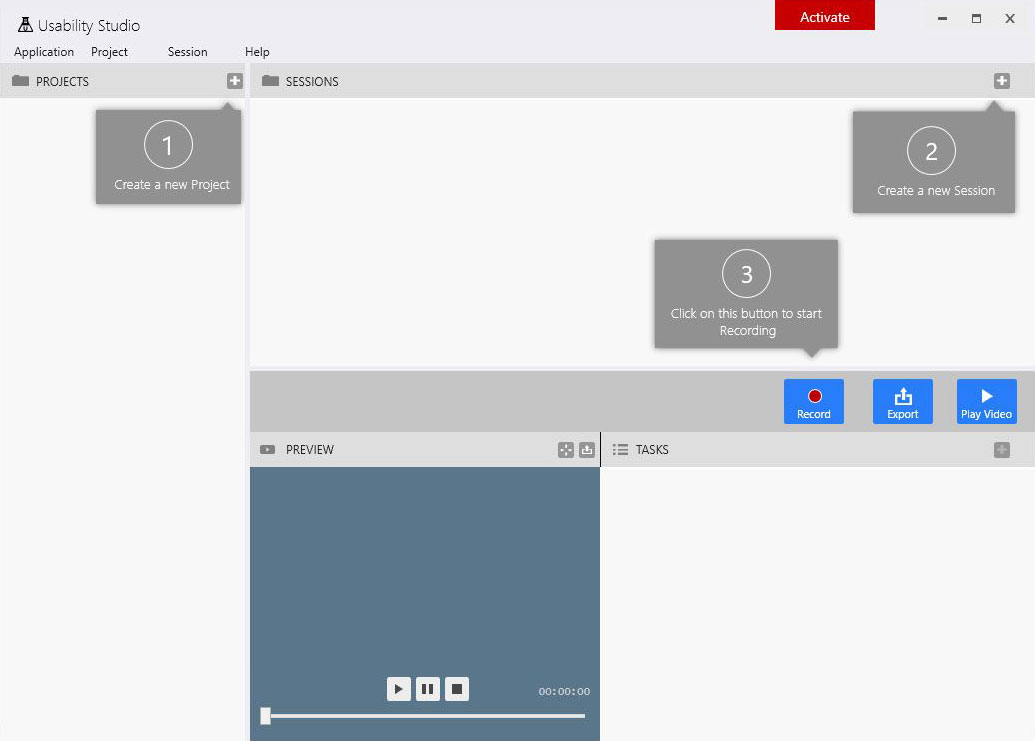 Usability Studio
Usability Studio is the choice of companies engaged in software development and web design, running on-demand usability testing and SEO optimization.
Usability Testing Made Easy
No more need to pay a bunch of money to find out what's wrong with your product
You can now run a usability test for your website, software, mobile app, and even a real-world item on your own.
Screen Recording
Usability testing for websites and applications
With screen recording, you can test all you can launch on your PC. The tester simply uses your application or website, and Usability Studio records all you may need in the future:
All actions that take place on the computer's screen
All actions and states of the mouse pointer (movements, clicks, etc.)
Video stream from the webcam
Audio stream from the webcam
Audio stream from the operating system (all sounds and noises Windows makes)
2 Webcam Recording
Usability testing for mobile apps and real-world items
Recording from 2 webcams simultaneously allows you to bring the testing from the virtual world to the real one. This feature is also helpful to companies that produce not virtual but quite real products and other goods.
Here is a brief list of what you can test with 2 webcams:
Mobile applications
Paper prototypes
Toys and puzzles
Home appliances
Projects & Sessions
As many as you believe will do
Ordering usability testing for all the little things from third-party services may cost your team serious amounts of money, so oftentimes this procedure is just skipped. Too bad though, sometimes serious problems are hidden in little things.
With Usability Studio, you can conduct testing as often as you need. There are no limitations on the number of sessions or projects for conducting usability tests.
Scripts
Quality scripts ensure quality testing
With a testing script, you do not just properly test the behavior of the user; you can also find out how much time it took them to complete each task. The less time is required to the user, the easier is the task. And the other way around.
The user simply moves from one task to another, while Usability Studio measures the time spent on its completion and provides you a brief report.
Preview
Full-fledged session viewer
You can review the session as soon as it's been recorded.
Moreover, you can configure the parameters of the preview:
Select the corners where the webcams should be positioned
Set the transparency to be used for recording from the webcams
Highlight the mouse pointer
Mark the positions of the mouse clicks
Adjust volume for any audio stream
All these settings will be saved and used when exporting the video. Moreover, you can have different settings for different sessions.
Export
No video processing experience necessary
Get high-quality video right from Usability Studio. All session data will be gathered to a single video file, which you can play in a regular video player, on any device.
Try Usability Studio
Available Platforms
Buy Now Just for $49.99
Subscription: 12-Month Subscription